The image of a Roman gladiator's fate being decided by a thumbs up or down is iconic–one that can be recalled in many Hollywood films including Ridley Scott's Gladiator and the famous painting Pollice Verso by Jean-Leon Gerome. Many may find themselves familiar with the painting but might not know that the image above became the basis for our pop culture idea of a crowd of plebeians jeering and viciously stabbing their thumbs downward– signaling that they wished for the defeated gladiator to pay for his loss in combat with his life. It is also where Ridley Scott drew his inspiration while directing his movie epic, blessing us with one of the best Joaquin Phoenix performances before Joker danced his way down a flight of stairs.
But, like most beliefs cribbed from famous works–this one turned up false.
If one were to find themselves judging the outcome of a gladiatorial match in a Roman arena (look, I don't know your life), it might be helpful to know that if you were to signal with a thumbs up that everything is cool and kosher and you totally don't wish any ill-will towards the defeated combatant–you might be that idiot screaming in surprise when the loser ends up spurting blood everywhere because your poor judgment resulted in his swift execution. You just sentenced that dude to death, man!
According to Anthony Corbeill, Classics Historian and author of works such as Nature Embodied: Gesture in Ancient Rome, whomever was in charge of administering the judgment of death over the defeated combatant would use 'the hostile thumb' or infesto pollice and that it would have been turned upward rather than down. [1] We learn this from 1st c. AD orator/teacher Quintillian who wrote that:
"Even in the fierce arena the conquered gladiator has hope, although the crowd threatens with its hostile thumb." – Quintilian, Book 11 Institutio Oratoria [2]
We have a couple of reasons to suspect what this would look like–there are a few examples in Roman works that describe orators using certain gestures that were thought of as somewhat obscene. This hostile thumb was also described by Apuleius in his aptly named Golden Ass "like an orator, shutting in the two lowest fingers, extending the rest straight out, and beginning calmly with the infesto pollice." [3] Naturally, this sort of position would suggest the thumb would be pointing upwards rather than down. Go ahead and try it the wrong way–I'll wait. Quintilian often remarks on orators who speak with an uplifted hand being rather fond of using the hostile thumb as well–similar to those who enjoy 'flipping the bird' which is another gesture that was well in use in the Roman Empire. Both the thumbs up and the middle finger represent phallic imagery and aren't thought of as particularly kind things to do with one's hand, least of all one that would denote mercy.
"…numerous examples attest to gestural language outlasting spoken language." – A. Corbeill, Thumbs in Ancient Rome: 'Pollex' As Index. [1]
Interestingly, there's a great deal of thought and attention in Roman writings put on the power of the thumb. In possibly the most Italian thing ever, the common belief in Rome was that gestures contained a stable essence. Many Roman writers waxed poetic on the thumb (pollex) and were quick to point out the similarity with another Latin word pollet which meant "has power". Roman writer Macrobius believed the thumb had moral superiority over the other fingers like it was some sentient, Twitter hashtag activist simply because it didn't take as kindly to ornamentation. Methinks Macrobius simply never found a decent thumb ring. Other writers thought the thumb held power and sway over the remaining fingers by this virtue alone. Some weirdos thought the thumb was somehow connected to sexual organs and thus had regenerative powers because that makes a whole lot of sense. But not as much sense as Pliny the Elder who prescribes the right thumb of a virgin in curing someone of epileptic shock. Basically, Romans were crazy about their thumbs and, oddly, the rest of the ancient world was pretty sure that the thumb was simply connected to the hand. You know, like a normal finger ought to be. [1]
"…the thumb, either as the primary agent or acting by itself, has complete control over grasping and controlling, as if it were the guide and moderator of all things." – Lactantius [4]
With this kind of obsession, and it stands to reason that gestures survive in cultural context better than verbal language does, it should be no surprise that throughout the timeline of Italian history, there are mentions of an erect thumb pointing at objects or people as one of scorn–from Dante's Renaissance all the way up to the 20th century–some form of the Hostile Thumb lived on. It's not even uncommon in other neighboring countries to view the 'thumbs up' as a sexually offensive one and it wasn't until World War II and the influx of American G.I.'s that the cross-contamination of the gesture changed in Italy. [1]
So if you wanted to save a gladiator, what gesture would you use?
Remember that the thumb has otherworldly powers, especially over the other fingers. There's a whole thing from Pliny the Elder which discusses a 'well-wishing' thumb exists in proverb where one means to show approval when pressing down the thumb on something, like a hand or upon an enclosed fist. Because these are the Romans we're talking about, of course pressing the thumb on things held a power in and of itself. Pressing a thumb on things might even cure you of pains and other ailments, and certainly pressing your thumb on your fist would save the life of a gladiator in the arena who maybe lost the fight because he ate too much
garum sauce
and was a bit sickly. Let him fight another day!
"Raising the hands and closing the fists, therefore, were expressions of power capable to concede life." Michel de Montaigne [4]
Now, since we've gotten this far, I'm sure most of you are well and myth-busted and smartly know that the thumbs up is an ancient signal for death in the gladiatorial arena. For those left feeling a little skeptical still (I get it, magical thumbs are weird) I'd ask you to think on another well-known gesture you are already familiar with that similarly employs the hostile thumb.
How about the "You're dead" gesture, cutting the throat with a thumbs up like a sword?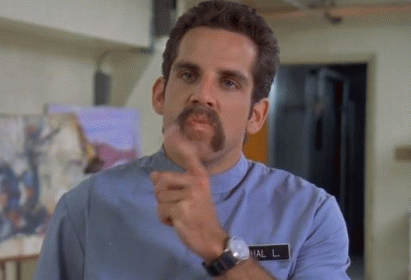 Yeaaaaaah–maybe rethink your thumbs ladies and plebes.
Fact Check it, yo!
[1] Corbeill, A. "THUMBS IN ANCIENT ROME: 'POLLEX' AS INDEX." Memoirs of the American Academy in Rome, vol. 42, 1997, pp. 1–21. JSTOR, www.jstor.org/stable/4238745.
[2] Quintilian, Institutio Oratoria. Book XI: http://penelope.uchicago.edu/Thayer/E/Roman/Texts/Quintilian/Institutio_Oratoria/11C*.html
[3] Apuleius, The Golden Ass: https://archive.org/stream/TheGoldenAss_201509/TheGoldenAsspenguinClassics-Apuleius_djvu.txt
[4] Corbeill, A. (2004). Nature embodied: gesture in ancient Rome. Oxford: Princeton University Press.